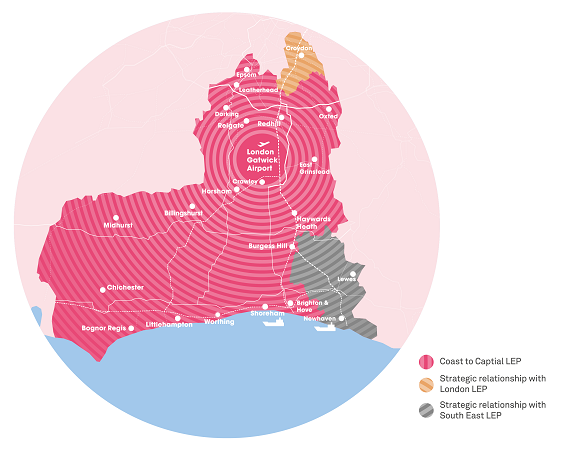 Coast to Capital has a total population of over 2 million people, covering an area of over 312,000 hectares. Our area boasts a strong economy worth £50.7 billion gross value added (GVA), making us the seventh largest local economy in England.
The Coast to Capital area is a network of functional economic hubs. Each has its own distinct sense of identity, offering, a powerful draw for businesses, entrepreneurs and visitors from London, across the UK and the rest of the world.
Croydon is our single largest urban area, integral to our economy, labour market and transport infrastructure. With ambitions to become a Smart City and leading cultural destination, Croydon is home to a growing cluster of pioneering and successful tech businesses which in turn generate innovation across the economy.
Greater Brighton is one of the fastest-growing city regions in the UK, rated in the top five for jobs growth in the past five years and one of the best places to start a new business. Greater Brighton generates £21.1 billion of Coast to Capital's £50.7 billion GVA
Distinctive and successful towns such as Epsom, Leatherhead, Reigate, Dorking, Oxted and Redhill form a central part of our economic area in East Surrey. All offer their own blends of economic activity, including major international business headquarters, clusters of high-value economic activity, such as the equine economy, and a highly- skilled commuting population.
The County of West Sussex forms the largest part of our area geographically and offers some of the most striking opportunities for growth and development. Areas such as Arun, including Bognor Regis and Littlehampton, have the potential to be future economic hubs with scope for growth and investment, supported by partners including the University of Chichester.